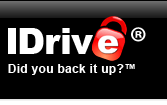 Although I save my important files on a
Buffalo Linkstation Pro
NAS
that I back up to an external hard drive each week, that data could be lost due to flood, fire, vandalism, or robbery. So, I recently researched several online backup services to buy some peace of mind. I looked at the following services:
Finally I found IDrive. For $5/month, or $50/year, IDrive lets you back up 150 GB. You install the client software on your Windows or Mac PC, and tell it which folders or drives,
including mapped network drives
, to back up. You can set up a scheduled backup, or enable
Continuous Data Protection. IDrive is able to back up open files, so you can use your computer during backup.

IDrive encrypts your data during transmission with
128-bit SSL, and uses 256-bit AES encryption for storage. They even give you the option of choosing your own encryption key, which they do not store - perfect for paranoid, TNO (trust no one) types.
When I first signed up, I left IDrive on overnight for the first few nights to upload my data. The client software can be set to shut the computer down when the backup is complete. Now that all my data is on the remote servers, each night IDrive checks my computer and NAS for new or modified files, and performs only an incremental backup. Files can be restored from the client software, or from the IDrive website.
If you're looking for an online backup service, I highly recommend IDrive. Visit their website to view the
features of IDrive
, or
watch a demo of IDrive
.